The next place that needed the water saving touch was the kitchen. The old tap was 15+ years old and was one of those nasty cheap ones that leaks, bends, paint chips off, just junk really.
It was time for a upgrade and we wanted a mixer tap. However since the old tap was one of the 3 piece systems we needed some stainless blanking plugs to cover the extra holes, Bunnings to the rescue again!
We got the actual tap from a plumbing supply store as they had a better range and we finally selected the Adelphi mixer made by Dorf.
http://www.dorf.com.au/product-ranges/mixer-taps/adelphi/adelphi-sink-mixer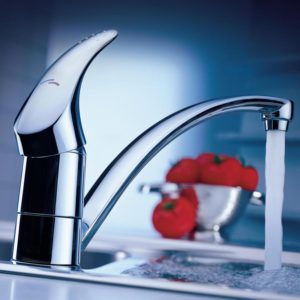 The tap is installed and we think it looks really good (that isn't our sink in the photo above). Hopefully combined with our water tank we will see a difference in our water usage.